Copenhagen & Frederiksberg development pipeline
Approx. 29,200 Planned Units of which 8,900 are Under Construction
---
Copenhagen & Frederiksberg
The subarea Copenhagen & Frederiksberg has been divided into the various city districts as illustrated on the map below.
Approx. 29,200 Planned Units in Copenhagen & Frederiksberg of which approx. 8,900 (31%) are Under Construction. Of the Planned Units approx. 28,500 (98%) are new constructions, while the remaining are conversions.
Amager West has the largest pipeline with approx. 5,000 Planned Units mainly attributed to the development of Ørestad with projects such as Bellakvarter.
Following Amager West, the city districts with the largest pipelines are Sydhavnen, Vesterbro, Nordhavn and Brønshøj-Husum with projects and development areas such as, Sluseholmen, Enghave Brygge Syd, Jernbanebyen, Carlsberg Byen, Bryggens Bastion and Tingbjerg.
Overview of included areas and Planned Units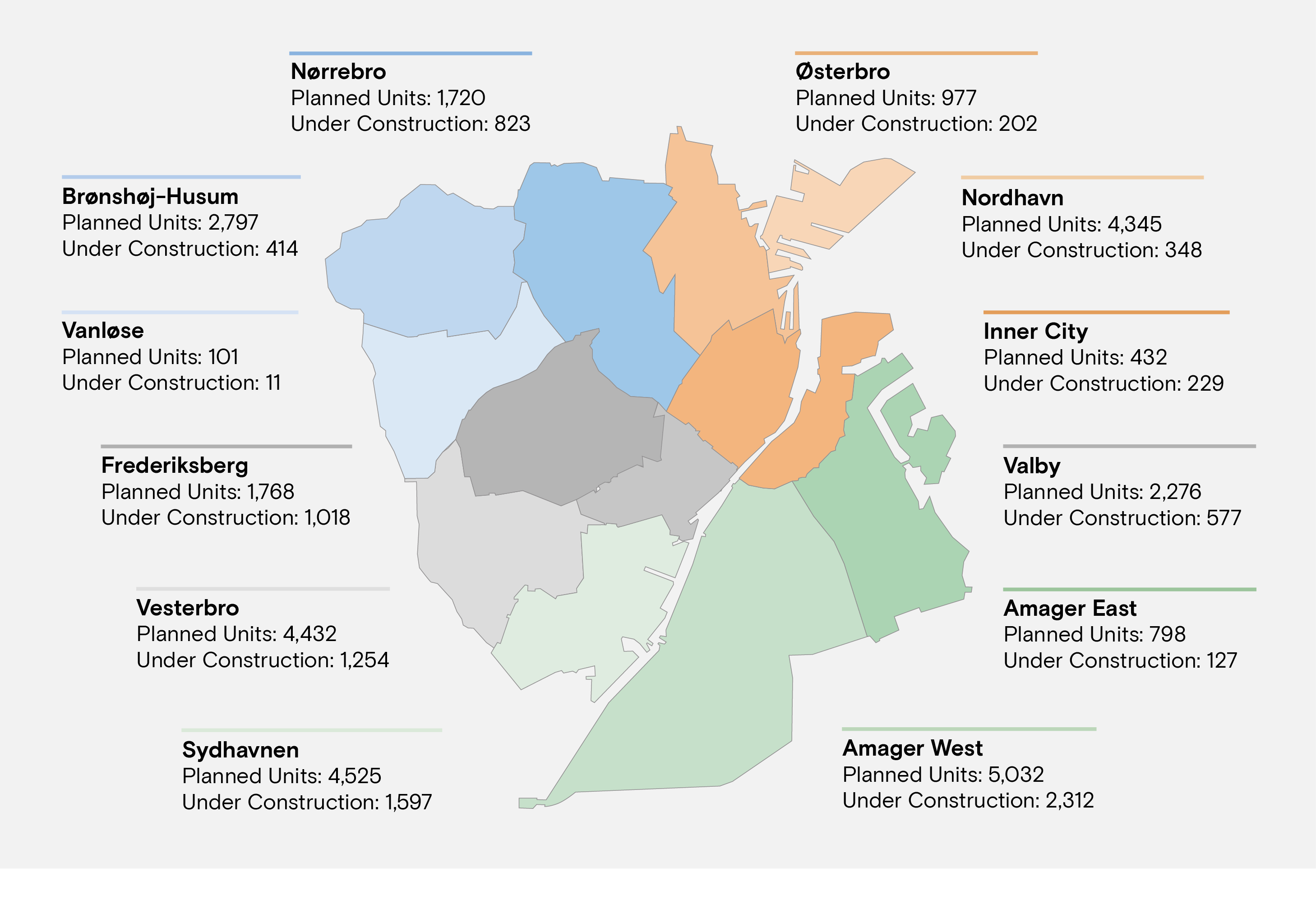 Investors/developers
The 10 largest investors/developers by total number of Planned Units are shown below.
Combined, the 10 largest investors/developers account for approx. 18,300 units corresponding to approx. 62% of the total Planned Units in the subarea Copenhagen & Frederiksberg.
Most of the largest 10 investors/developers have the majority of their residential development exposure in Nordhavn, Vesterbro, Amager West and Sydhavnen.
10 largest investors/developers by Planned Units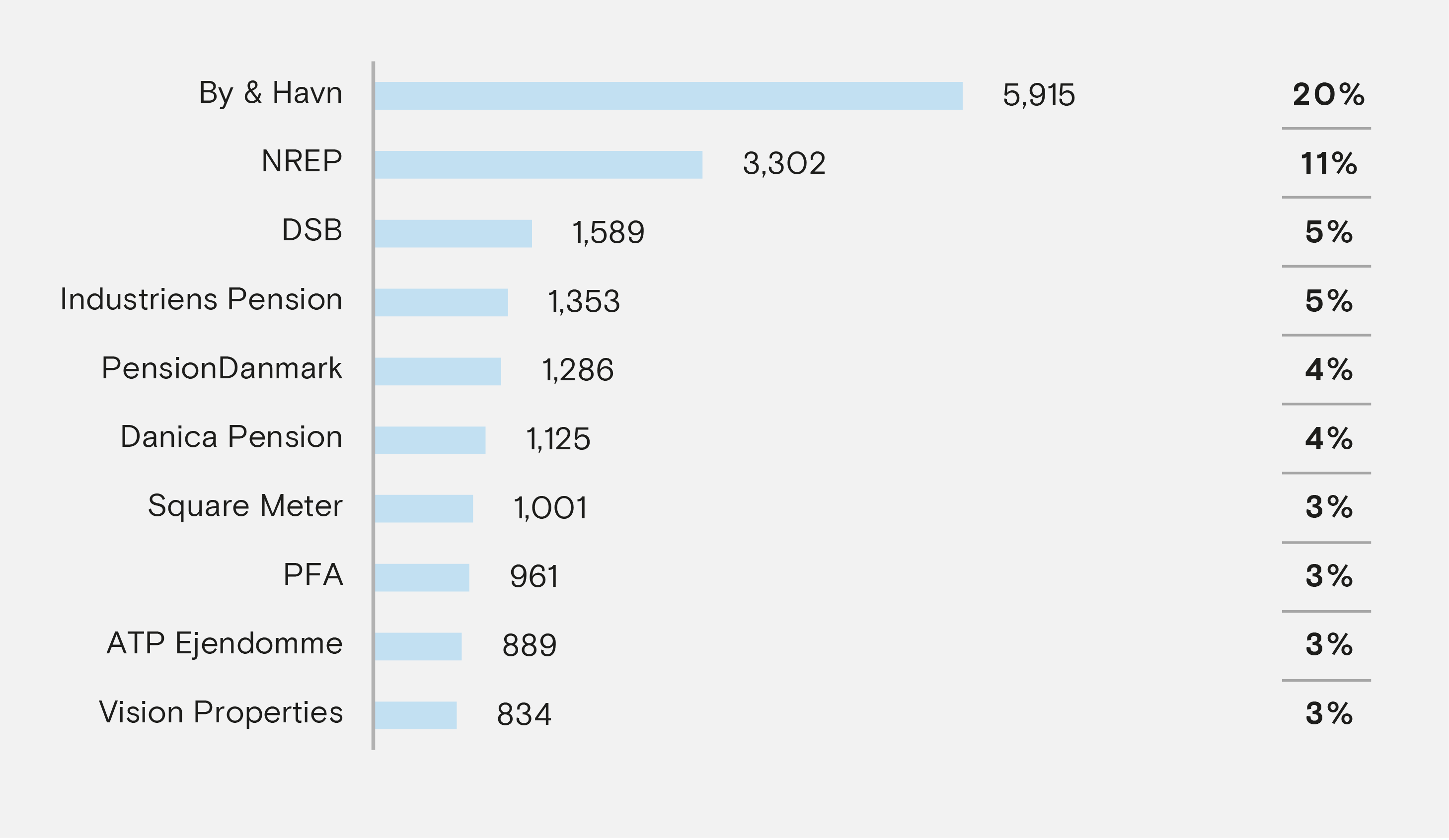 Note: By & Havn owns several plots intended for sale but not currently developable
Development timeline
The development timeline of the Planned Units by estimated completion year is shown below.
Almost all Planned Units with expected completion in 2023 are currently Under Construction. From 2024 to 2026 approx. 12,900 units are estimated to be constructed. Approx. 50% of the pipeline with estimated completion from 2024 to 2026 is currently Under Construction.
A large part of the remaining units with estimated completion in 2027 or later comprise development projects in early planning stages and areas and projects requiring new zoning plans or other municipal approval before construction can commence.
Units by estimated completion year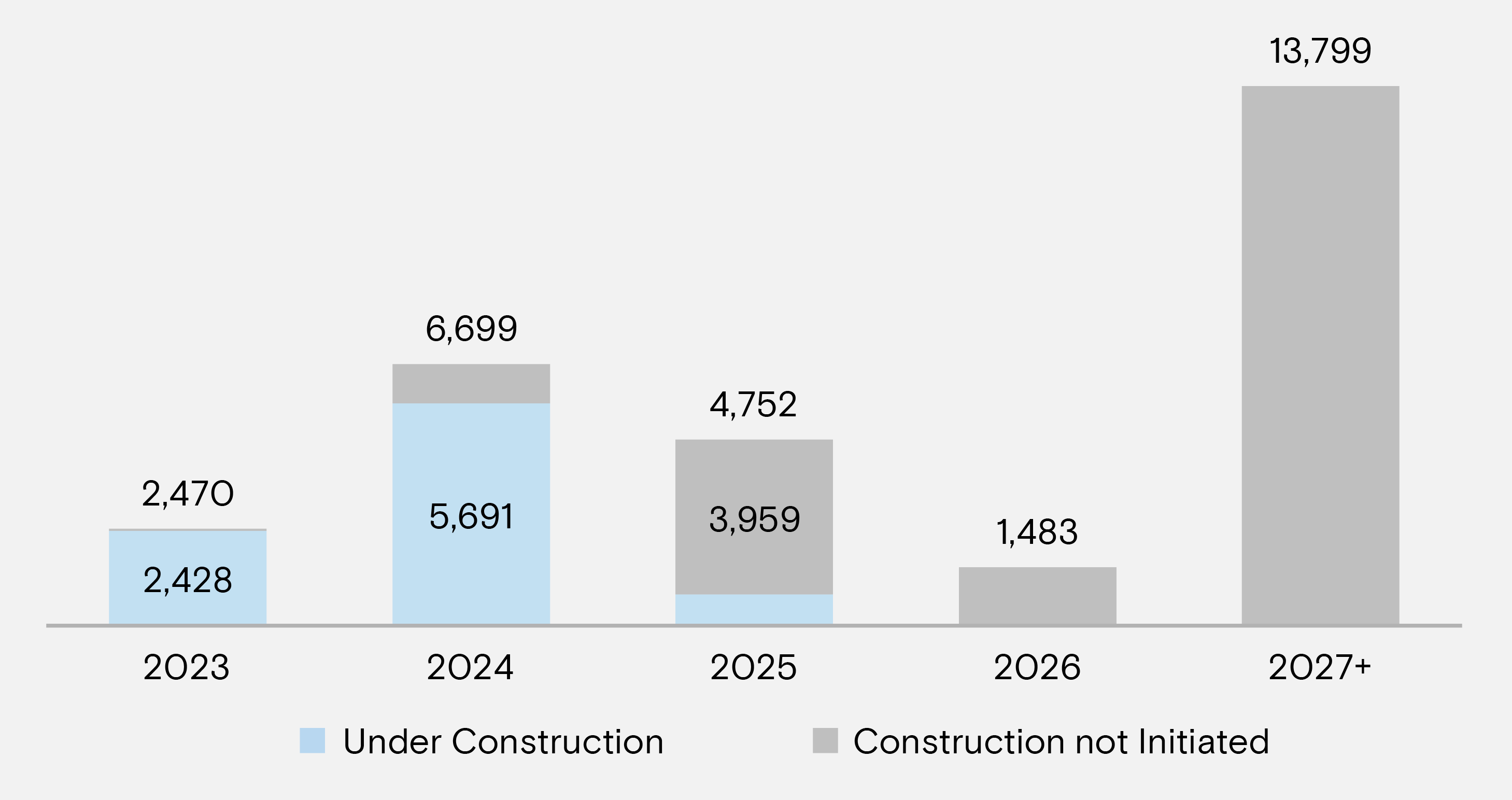 ---
Contact:
Jacob Kjær
Partner & Head of Denmark
+45 30 10 24 08
jacob.kjaer@nordanopartners.dk